Alyse Pacheco Nichols
Senior Counsel | Walnut Creek
Attorney Insights
More from Alyse Pacheco Nichols
The Best Advice Iíve Ever Received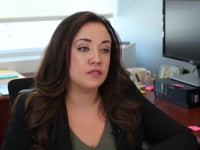 What Inspired Me to Become an Attorney
Overview
Alyse Pacheco Nichols is Senior Counsel in Lozano Smith's Walnut Creek Office. She represents clients in the facilities and business, litigation, and construction aspects of education law.


Experience
Ms. Nichols frequently assists clients through Brown Act compliance, particularly related to agenda questions and issues; reviews vendor contracts; and helps conduct investigations into both employee and student Title IX complaints.

Ms. Nichols prepares and assists clients in presenting expulsion cases, on behalf of school sites, before school boards and admin panels. She assists admin panels throughout the expulsion hearing process, and presents on student discipline, including expulsion appeals. She has also negotiated stipulated expulsion agreements for school sites. Additionally, Ms. Nichols supports clients in handling grade challenge appeals and requests for student records.

Ms. Nichols previously worked as a staff attorney at the California Supreme Court, where she reviewed and researched criminal writ petitions, and petitions for review in direct appeal and habeas corpus cases. She then proposed resolutions of the legal issues in each case to the court. Ms. Nichols also served as a judicial extern for the U.S. District Court, Northern District of California, where she gained extensive experience researching and drafting proposed procedural and dispositive orders in prisoners' cases.


Education
Ms. Nichols received her Juris Doctor from the University of San Francisco School of Law, and earned Bachelors of Arts in Sociology and Spanish from Westmont College. While in law school, Ms. Nichols was a member of the USF Law Review, and the McAuliffe Honor Society, and served as President of the USF Law La Raza Student group.

Effective 2023, the California Public Records Act ("CPRA") has a new statutory "home" within the Government Code. (See Gov. Code, § 7920.000 et seq.) While the Legislature has indicated this reorganization is not intended to change the CPRA substantively, the practical effects of this reorganization remain to be seen. In this Lozano Smith Podcast episode, host Sloan Simmons engages with Lozano Smith Partner, Manuel Martinez, and Senior Counsel, Alyse Pacheco Nichols, to discuss this statutory reorganization; guesses as to the Legislature's rationale for the reorganization; and how this reorganization will or will not effect the way public agencies response to CPRA requests.